Kolev Roll Forming Lines For Sale
Roll Forming Lines | Systems | Roll Tooling
15″ Soffit 4 Panels Roll Forming Line for
Sale
Made in Canada by KOLEV Engineering Inc.
NextGen Rollforming®
Ready to ship from Mississauga, Ontario.
Call: 905-696-0339
Email: sales@kolev.com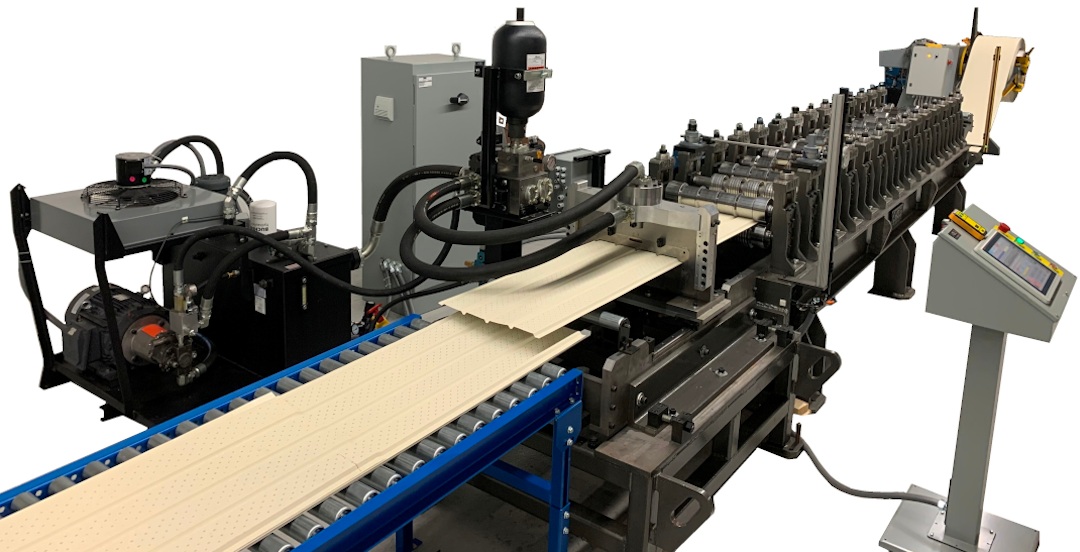 Roll Forming Line Description
This 15″ Soffit 4 panels KOLEV Roll Forming line is available for sale now. The rollforming line produces high-quality aluminum soffit panels with or without ventilation holes. A 6000 lb uncoiler with hydraulic expansion and laser loop controls feeds the material (aluminum 0.012″- 0.013.5″) to a roll forming machine with 14 passes. The rollforming machine has a 120 ft/min speed and includes a manual adjustable entry guide and encoder fixture. Pass 13 of the roll forming machine is the ventilation forming station equipped with Duff Norton actuators and Lansing Rolls. The 15″ Soffit 4 panels produced by the rollformer are post cut by HHSS hydraulic cut-off system. This Soffit Panel Roll Forming Line includes a 20 ft exit gravity conveyor and electrical controls. KOLEV Engineering provides on-site installation and commissioning of this Roll Forming Line and export packaging and documentation for US customers. See more details and specs below and inquire by contacting KOLEV Engineering Sales at 905-696-0339.
FOR SALE
KOLEV Roll Forming Line
15″ Soffit 4 Panels
Condition: Brand New
Location: Mississauga ON, Canada
Price: Inquire About Pricing at 905-696-0339
Availability: In Stock
KOLEV Soffit Panel Roll Forming Line
Configuration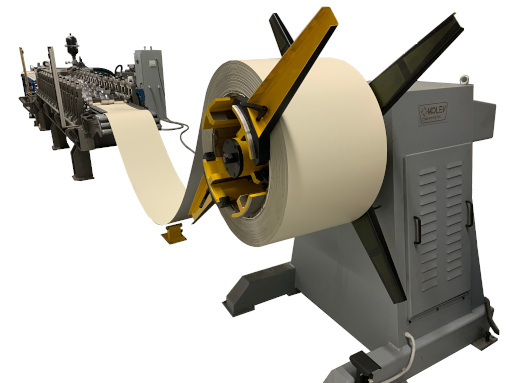 The Uncoiler of the 15″ Quad Vent/Non-Vent Aluminum Soffit Panel Roll Forming Line
6000 Lb,
single mandrel,
hydraulic expansion,
full-time drive,
laser loop control
Uncoiler 6000 lb, Single Mandrel, 24" face
Max. Weight of the coil: 3000 kg (6000Lb)
Max. Coil OD: Ф1400mm (55in)
Range of the ID of the coil: Ф465 (470) (18.5in)- Ф520mm (20.5in)
Max. Coil Width 500mm (19.5in), at max. Mandrel width: 600 mm (23.63")
Speed of up to 45m / min (135fpm)
Height from the floor to the axis of rotation of the mandrel: 1100 mm (43.3")
Mandrel:
– opening and closing of the jaws – by means of a hydraulic cylinder, a rotary distributor DEUBLIN and a built-in hydro-station (0.5 kV AC motor),
– Coil keepers – 8 pcs adjustable (4 + 4),
– Mandrel drive via a two-row circuit of 3.5 kW Siemens gear motor, with power supply parameters, AC 3PH / 575V / 60Hz, as well as a fan with independent rotation and a negative electric brake 10Nm, mounted on the shaft of an electric motor.
Electrical equipment:
– Electrical cabinet Rittal or Himel (fixed on the body of the machine laterally as shown in the diagram),
– Allen Bradley inverter,
– Removable panel connected with a flexible cable (4 m long). There are only buttons for rotating Forward, Back, and Av. Stop on the console,
– Sensors for automatic control of the development of the coil "ear-loop."
Roll Former – 14 Passes
Heavy-duty base for 14 passes, welded structure I beam with machined surface
Entry guide – manual adjustment on precision linear guides
Shaft Diameter – 1.5" x 3/8 keyway
2 gear reducers, Cone drive
Chain drive all bottom shafts
Bottom to top shafts drive – gears to designated passes
Horizontal distance – 12 3/4"
Vertical Distance – 4.5" – 6.5"
Roll tooling space – 20"
Encoder fixture
Working speed 120fpm
Drive: 10HP AC motor, 1800 rpm, 575V, 3ph, VFD drive, and control panel for the roll former, plug and play
Lansing station for ventilation holes Pass #14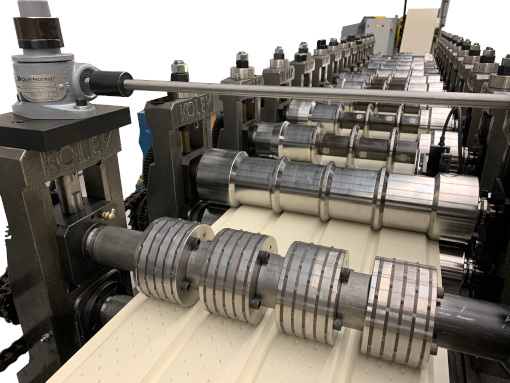 The Roll Former with 14 passes of the Soffit Line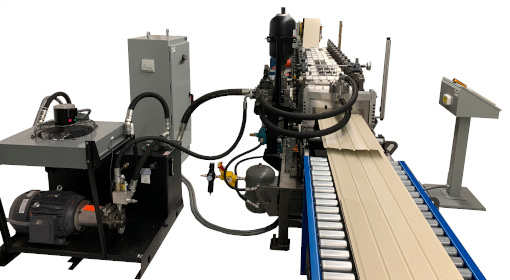 The Hydraulic High-Speed Shear of the Soffit Panel Roll Forming Line
precision linear guides,
4 ½" HHSS cylinder,
8.5 ton to 12-ton shear,
one set shear blades, D2, hardened, grind and EDM profiled,
shear acceleration – by air cylinder.
Hydraulic High-Speed Shear Open Loop HHSS
Hydraulic power pack
L45– 15HP, Hydraulic power unit and components consisting of the items below for Flying HHSS Cut-off Press (x1) -45 gal. nom.
L-style reservoir c/w large breather, level temp. switch, level temp. indicator,
1x 2" CD 61 return port, 1 x 3/4" NPT drain connection,
15 HP.,1750 rpm 460 VAC./60Hz./3ph.,C-face Premium efficiency electric motor
Parker, 7.5 GPM, variable displacement, pressure compensated piston pump. (set 2800 psi.),
24 VDC. solenoid ventable relief valve set at 3000 psi. max
1 HP. 460 VAC./60/3 1750 rpm. TEFC. motor for 9.5 GPM cooling & filtration loop pump,
Extra large Air-Oil heat exchanger c/w 100°F temperature switch to activate motor fan start relay(s).
Watch the Soffit Roll Forming Line in Action
Need More INFO about KOLEV SOFFIT ROLL FORMING LINE Listed for Sale